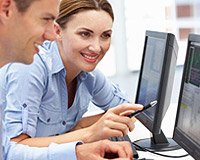 The Applications Software Development team works in partnership with it's clients to Manage, Design, Develop, Deliver and Support unique custom built software and middleware solutions. Each solution is exclusively designed and implemented to meet our individual clients requirements.The Applications Software Development division has an unrivalled track record in project delivering projects to date. This success is the combination of a highly technical team, a quality driven Application development process and our wealth of project experience.
It is found that 90% of the jobs in industry are skill based. Most of the colleges give their candidates technical knowledge but the required level of skill for industries is not achieved.
This is where finishing school has to step in to bridge the gap between the fresher and industry placeable candidates.Our training process includes intensive theoretical knowledge of the technologies and exposure of working on real time live projects along with training on interpersonal skills to make you a complete professional with the help of a team of Industry experienced learned faculties
System integration is the bringing together of the component subsystems into one system and ensuring that the subsystems function together as a system. We offer complete solutions customized to meet the generic and specific needs of the clients, and includes design, installation and superb after sales service. Integration multiple IT systems that cater to different functions, departments and stages in product lifecycles.